WASTEELS is in cooperation with sevral top car rental companies, offering excellent quality, special prices and complete vehicle selection, both in Bulgaria and abroad.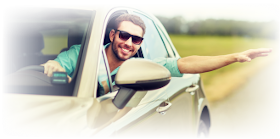 General car rental documents and requirements:
All car rental companies require a valid drivers license. Some car rental companies check the driver's history and will deny a car to a customer with a poor driving record. In some foreign countries, an international drivers license may be required.
In addition, many car rental companies require a major credit card to guarantee payment even if there is a prepaid voucher or direct billing to the client or corporation. If a credit card is being used for payment, be aware of your credit card limit; many car rental companies require immediate credit approval before renting the car which can substantially reduce your remaining balance of credit. Usually, cash deposits are not accepted.
Usually, car rental companies require renters to be at least 21 years old. If the renter is less than 21 years old, young driver surcharge fee is applied. Similarly, senior citizens over a certain age may not be allowed to rent cars in some contries.
The renter should drive the car. Upon request other people can be authorised to drive the car. Signatures of all drivers and their drivers licenses are required by the rental company. There is a charge for any additional drivers added to the rental agreement. Additional drivers must meet minimum age requirement.
The car is received with full tank at the office of the rental company and should be returned with full tank in the same place, unless something else is agreed. If car not returned full, you would be charged refueling charge, plus the cost of the missing fuel.
When making reservation in advance, the car rental companies do not guarantee the car, just the category.
There is an option when making reservation for a car, to prepay the rental in advance. The prepaid rates are usually discounted and save you money. All extras, voluntary upgrades and additional taxes should be paid on spot, at locally applicable rates.